Notable wildlife expert Simon King – more famously known for Springwatch, Autumnwatch and Big Cat Diary – recently used one of our sheds for his show at the BBC Gardener's World Live event. The event, running over five days, was a resounding success and included talks by Simon where he demonstrated his new website, Simon King Wildlife, and showed the amazing live camera features. The live cameras includes a family of urban foxes, badger feeding, a stretch of river through Simon's own garden and a "kite o'clock" camera where every day at 3pm, hundreds of red kites gather to feed at Gigrin farm in Wales.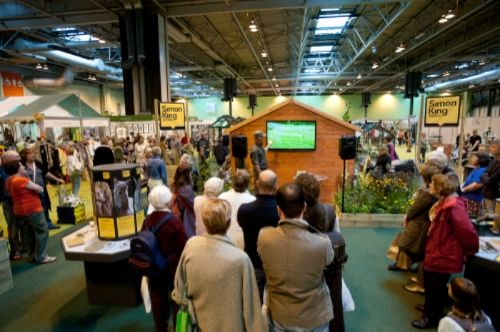 Image provided by Simon King Wildlife
Gardeners' World Live is a yearly event celebrating and showcasing some of the best flower and garden exhibitions in the UK. This year, they featured Simon King at the BBC Gardeners' World Theatre and he attracted quite a crowd with his live camera demonstrations. As well as his own website, Simon has presented on a number of wildlife programs and has also contributed to various programs with his camerawork including Blue Planet and Planet Earth. Simon was also awarded an OBE for services to wildlife and conservation in 2010.
It is fantastic that we were able to provide Simon with one of our sheds for the event where it contributed to serving as a backdrop for the stage as well as being used for storage.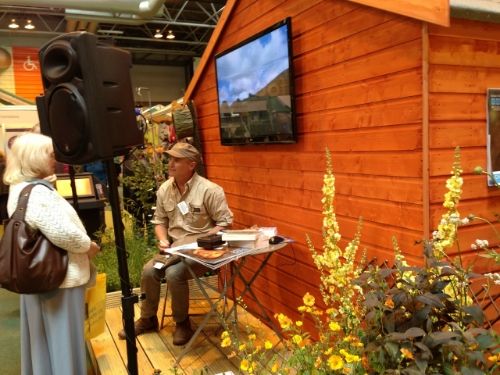 Image provided by Simon King Wildlife
Simon will be using the shed again in August at the Birdfair event and he will be using it for master classes and workshops.
The event for Simon's talk is now closed, but you can view all of Simon's live cameras on his site and you can also keep up-to-date on future Gardeners' World Live events on their website.