Every two months we pick a new seasonal vegetable and hunt down some of the tastiest, most inspirational recipes we can find from talented food bloggers all over the web. For May and June we have chosen asparagus.
In season for a mere eight weeks, British asparagus should be bright and firm. To keep the vegetable at its absolute best when storing, trim the ends, place in a glass of water, cover with plastic, and refrigerate. This will keep them in top condition for up to two days.
If you plan to grow your own asparagus, it is surprisingly easy to do outdoors or in a potting shed, but be warned that you will have wait until year three to reap the rewards and harvest your asparagus!
Just like our other featured vegetables kale and cauliflower, asparagus is full of health benefits:
Asparagus is a good plant-based source of protein and high in fibre
Its anti-inflammatory compounds can help protect you from type 2 diabetes and heart disease
Your skin can benefit from the antioxidant glutathione found in asparagus, which is known to protect skin from sun damage, pollution and the effects of aging
It contains Vitamin K, great for  promoting healthy blood clotting and strengthening bones
Asparagus contains a unique carb called inulin, which remains undigested until it reaches the large intestine, where it helps to absorb nutrients better, and cut the risk of bowel cancer
As a rich source of B vitamins, asparagus can help to regulate blood sugar levels
Green asparagus also contains vitamin A for better vision, potassium for smooth kidney functioning, and trace minerals that help boost immunity
Source: https://www.care2.com/greenliving/7-amazing-health-benefits-of-asparagus.html
One of the reasons that British asparagus tastes so good is down to the fewer air miles it has clocked up. From the second asparagus is cut, the natural sugars begin to fade and the stems turn tough and fibrous. Therefore, the shorter the journey from field to plate, the tastier and more tender the spears!
Here are some asparagus recipes we can't wait to try: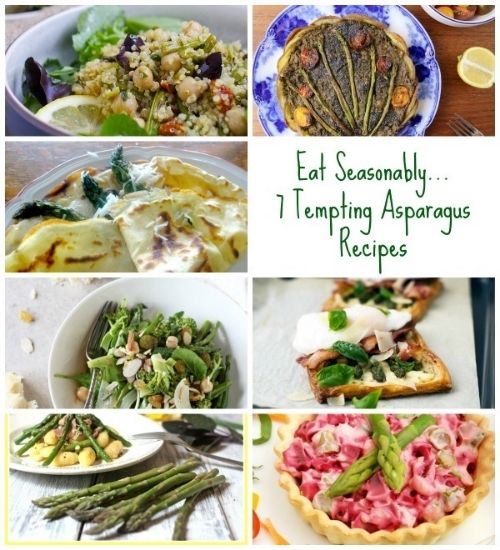 Basil & Walnut Pesto Quiche from The Whole Ingredient
Asparagus Brunch Tart by Scrummy Lane
Roasted Spring Vegetable Salad with Tahini Dressing by Cookie Monster Cooking
Asparagus & Beetroot Tartlets by Flavourphotos
What will you be cooking now asparagus is in season? Share you recipes and suggestions with us over on Twitter!
Better yet, got a vegetable in mind you'd like to see covered here? Let us know!