Horticultural Therapy: Growing Social Seeds
Published: 08/11/2013
The practice of Horticultural Therapy can been dated back to the early 17th century. Dr. Benjamin Rush, a signer of the Declaration of Independence, observed and documented the benefits of working with plants for his patients at his Philadelphia clinic...
Horticultural therapy projects are now commonplace here in the UK; they are set up to support the wellbeing of those who suffer from mental health issues, illnesses, disabilities and isolation. Community gardening projects have recently been highlighted in the media as a solution to solving the loneliness crisis the older generation within the UK face today. Registered charities like the Horticultural Therapy Trust in Portsmouth provide a safe, calm, nurturing, enjoyable and empowering environment for local people to grow flowers and vegetables, cut seeds, designing flower beds, colour schemes, support local wildlife, digging, weeding, building raised flower beds, woodwork, much more for free! Thrive are another charity whose aim is to enable positive change in the lives of disabled and disadvantaged people through the use of gardening, run a wide range of projects and events throughout the UK, providing education and engagement to thousands of people. We reached out to Thrive to help better understand the benefits of Horticultural Therapy and how everyone can help the most vulnerable and isolated in society become a part of a community through gardening:
When and why was Thrive established?
Thrive began as the Society for Horticultural Therapy in 1978, set up by Chris Underhill, a young horticulturist inspired by his work with people with learning disabilities. He was supported by, amongst others, Reverend Dr Geoffrey Udall, a paediatrician who became the founding Chairman. The first grant was given by The Joseph Rowntree Foundation, who actually donated more than had been requested. In 1984 it took over the gardening service from the Disabled Living Foundation and a public garden in Battersea Park which was the first demonstration garden in the UK, created specifically for people with a disability. In 1989 Dr Geoffery Udall donated his family's estate and walled garden at Beech Hill, near Reading to the charity (which is our headquarters today). Then in the late 1990s a major restructuring took place to put the charity on a sound financial footing which culminated in the building of the National Resource Centre on the estate in Beech Hill and in 1998 the charity became known as Thrive.
Who are the people that work behind the scenes?
We have a board of eight trustees and five senior members of staff in the management team. We employ 58 staff made up of full and part time. We have a dedicated team of volunteers and corporate supporters.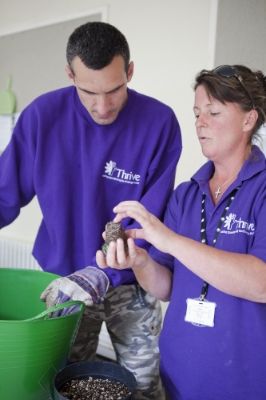 What is your mission? Our mission is to enable those touched by a disability to transform their lives using gardening. Using our passion for gardening to change the lives of people touched by a disability, Thrive will:
teach practical and creative ways to use gardening
learn more about how gardening helps people
talk about what we do and how we help using gardening
work with individuals and organisations
Tell us how gardening plays a vital role in improving the lives of the people Thrive helps. Gardening is a wonderfully flexible medium that can transform lives and Thrive sees first-hand how gardening can help everyone, regardless of age or disability. The benefits of a sustained and active interest in gardening include:
Better physical health through exercise and learning how to use or strengthen muscles to improve mobility
Improved mental health through a sense of purpose and achievement
The opportunity to connect with others – reducing feelings of isolation or exclusion
Acquiring new skills to improve the chances of finding employment
Just feeling better for being outside, in touch with nature and in the 'great outdoors'
Social and therapeutic horticulture is the formal name given to the process of using gardening, plants and horticulture to help individuals develop.
Tell us about your garden projects (If you have any pictures please forward them on)
Working it Out - Aims to transform the lives of unemployed disabled Londoners by providing them with the tools to enter paid employment in the horticulture sector. Launched in 2009 (two years before the Government's Work Programme) Working it Out has helped over 150 disabled Londoners: 77 achieved a City & Guilds horticulture qualification, over 80 have gone on to take higher qualifications, many now volunteer in their communities and over 30 per cent have secured paid work (operates in Battersea Park). We are using elements of Working it Out in our new project called
Down to Earth, funded by the Royal British Legion and aimed at ex-service personnel, which runs in Birmingham and Gateshead.
Dig it! - is our community food growing project in Larkhall Park and Ruskin Park, Lambeth. The project enables people living in Southwark, Lambeth and Wandsworth, gain vocational and volunteering skills which should help their employment prospects, improve their health and well-being and become active members of the community. Grow and Learn – a two year project giving young people aged 16-19 with special educational needs and/or learning disabilities a challenging and enjoyable opportunity to realise their aspirations, increase their confidence and self-esteem and develop the independence skills they need for adult life.year olds gain a level 1 qualification and develop their work skills. Based in Battersea Park London, and Burgess Park, Southwark, London
Life After Stroke – Rehabilitation project for stroke survivors using gardening is delivered by therapists throughout Berkshire, Hampshire and Oxfordshire either at stroke clubs or hospitals. Pots and Petals - Working with young people who have profound and multiple learning difficulties. Interactive programme using the natural environment to stimulate the senses of sight, smell, taste, touch and sound (Berkshire at Thrive gardens) Growing Options – a personal development and vocational training programme for 14-16 year-olds with complex needs. Qualifications can be gained (London and Berkshire)
Pathways – a supported volunteering programmes enabling people with mental ill health to become independent volunteers. (Battersea Park)
Gardening Together – funded through the Neighbourhood Learning in Deprived Communities Fund. The aim is to support people living in sheltered housing and care home accommodation to engage in, learn about, enjoy and benefit from gardening. (locations in West Berkshire)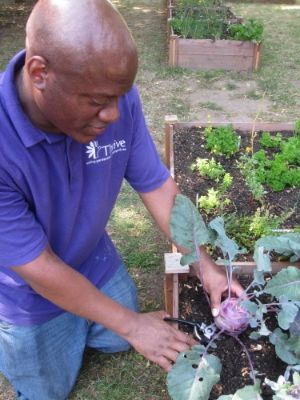 How has Thrive's work influenced/helped the people you help and the local communities you work within? If you visit our website at www.thrive.org.uk there are many examples of success stories. Here's one… Rob met a Thrive horticultural therapist when he was in a psychiatric hospital receiving treatment for paranoid schizophrenia. He started coming to Thrive once a week and credits the charity with getting him to a "really good place". "I had no interest in gardening," he said, "but meeting Thrive changed my life. I thought gardening was just mowing grass and digging. I did not know whether Working it Out and all the theory that goes with it would suit me. But you are not rushed or put under pressure and I did the course at my own speed." Now Rob is working part time at a garden centre in London. "Thrive has given me confidence. I've made new friends and got all this new knowledge and experience." Meanwhile Thrive is delighted that Dig it! is working so well (in Larkhall Park, Lambeth) and we've harvested some great produce already. "We are also delighted to be fitting into the local community – many local residents have told a worker at the nearby one o'clock club that the area we are working in used to be one people would avoid when visiting the park as it was intimidating – particularly after dark," said Thrive's London Project Manager Isla Ferns. "However, since Thrive's input the whole atmosphere has changed and the area has opened up. People are now going out of their way to see the changes and developments to the raised beds we have installed in the park."
What are the activities your members enjoy the most? Everyone is different and an individual. We encourage all our service users to take part in all garden activities. There are some who enjoy being outdoors, in all weathers and really getting stuck in; others like to pot on and sow seeds.
What is the best thing about working at Thrive? I think most staff would say they enjoy working for a charity because they want to help people. We are also fortunate that in 2012 volunteers donated 21,500 hours of time to Thrive – we simply could not operate without them.
Do you have any future plans to expand your gardening project? Looking to move into the North West of the country. Very early days though and need to become more established in the Midlands and North East where we started new projects this year.
Do you think gardening in general could play a more vital role in improving the lives of others and society. Yes. Thrive is passionate about improving the lives of disabled people through gardening; we want to reach more disabled people in more places across the UK; and, helps disabled people to contribute to their communities. Gardening is more than just a leisure activity, there are many benefits!
How can people and business help you and or get involved? Thrive relies on the generosity of its supporters – both individuals, companies and trust and grant making organisations. We need to raise £1.7 million each year to operate. We offer volunteering opportunities, again for individuals and corporate organisations and we are always looking for volunteer community fundraisers.
Is there anything you need to continue or expand? We would be looking for gifts in kind to fit our new building in Battersea Park which is being built, replacing old portable buildings no longer fit for use. We are seeking a kitchen and toilets, along with donations of plants to create the garden. If anyone can help, please contact Isla Ferns on 020 7720 2212.
Where can people go to find out more information? www.thrive.org.uk we are also on Twitter @ThriveCharity. Maid head office number 0118 988 5688/ email info@thrive.org.uk
Get Involved in Gardening The great thing about gardening is that it inclusive to any age and ability, there is always something you can do in you the garden or as a part of a local group. If you can search for a local community or school gardening group or project on the Royal Horticultural Society's website here, should you want to get involved in gardening! With allotments up and down the country in threat of closure there has never been a better time to get stuck into gardening. Not only will you improve your health, expand your knowledge and become more sociable you will get to grow your own fruits and veg. As food prices continue to rise having an allotment, potting sheds and vegetable patch can provide the family with great local food and help save those much needed pounds for the winters heating bills. If you know of any other Horticultural Therapy projects around the UK please do let us know by leaving a comment below and we would be more than happy to add them to the article.