Bat Friendly Gardens
Published: 14/05/2013
Bats are a fascinating and diverse group of species, it is important that we protect them and try do our own little bit to help them survive the damage we have caused to their natural habitats. We spoke to Professor John Altringham, a leading bat expert at the University of Leeds to ask him some questions about the current situation with bats and advice on how we can do our own bit to help: "We should protect bats for no reason other than the fact we should. They are fascinating creatures whose pure intrigue makes them worth protecting and have every right to live without even considering any of the other advantage they provide."
Bats make up a part of several ecosystems and the knock on consequences of the removal of bats could be disastrous to biodiversity. In addition to this bats even provide economic advantages; a 2011 study gave an estimate of bats contribution to the US economy through pest control of $23 billion a year. The largest factor effecting bats at the moment are those caused by humans. "Destruction, degradation and fragmentation of their habitat are the main pressures acting on bats. We are constantly chipping away at them, reducing the area and quality of habitat available to them." As a result of the damage we have caused some species of UK bats are down to only a few % of the population that existed a hundred years ago. It is often thought that individuals can't have much of an impact on issues spanning such wide areas however studies have proven that a diverse urban or sub-urban habitat can have great beneficial implications on helping maintain biodiversity and conservation of species. So, how can you do your bit to help? Make your garden a haven for insects To help bats you need to provide them with food, by attracting a range of insects to your garden, not only will you help increase the biodiversity of your garden, it will provide a range of potential food for bats.
Use a range of plants including night scented species to attract night flying insects.
Evening Primrose: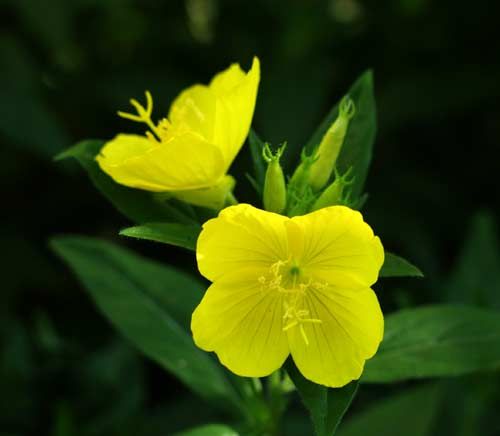 Image source: https://www.aromaoilstore.com/files/product/small/Evening%20Primrose%20Oil.jpg Jasmine:
Image source: https://www.behindthename.com/imagebank/images/jasmine.jpg Honeysuckle:
Image source: https://www.flickr.com/photos/lesioc/3602897541/
· A water feature or pond is also great for encouraging insects to settle in your garden as many insect species require pools of water to lay eggs in. Do not have fish in the pond though, these will eat any insect larvae and defeat the purpose of having the pond.
· Don't use pesticides, this may seem obvious but they reduce the available prey for bats and some pesticides can harm bats if they eat insects that are affected by the pesticides.
Keep it dark Bats are primarily nocturnal, so use light in a sensitive way. Try to keep light levels low and not pointed at areas the bats are likely to use. Obviously you will need a bit of light to be able to enjoy the garden yourself but try to make it a compromise between you and the bats.
Bat boxes In urban areas bat boxes are very difficult to get to work. The bats have plenty of options for places to roost in the surrounding buildings. If there aren't a many buildings around to act as roosts then the best option to try is a large multi-chambered bat house that is positioned as high up as possible. If you incorporate these features to your garden the most likely bats you would attract in urban areas would be the common and soprano pipistrelles. These are the smallest bats found in the UK weighing somewhere between 3.5 to 8.5 grams. Even though they are tiny bats they can eat up to 3,000 insects each in a single night. They fly very erratically close to buildings and trees. In more fringe urban and suburban areas you may find other bat species like brown long-eared bats, natterer's bats, noctule and Daubenton's bats. Potentially others of the 18 resident British bat species could visit your garden but these are the most likely. So let's get gardening and doing our part to help with bat conservation. Let us know how your attempts at making a bat friendly garden go! Sources https://www.bats.org.uk/index.php Boyles, J. G. et al. (2011) Economic Importance of Bats in Agriculture, Science, Vol 332, Pages 41-42.